Other Partners and Projects
Slovak Republic: Úrad hraničnej a cudzineckej polície

Bureau of Border and Alien Police is subordinated to the Presidium of Police Force, Ministry of Interior of the Slovak Republic and directly governs organizational units with: Territorial competence: the State border + the territory of the Slovak Republic External Schengen border: Land border with Ukraine (97,9 km), Three international airports with non-Schengen flights (Bratislava, Poprad and Košice). The Bureau's competences are based on both – the EU regulations and national legislation of the Slovak Republic. The core competencies of the Bureau are as follows: risk analyses, border control (surveillance and border checks at BCPs), detection of false documents, combating facilitators' networks, fight against illegal migration and cross border crime, residence permits, expulsion of aliens, readmission, visa, implementation of the Dublin Convention and training of experts.

http://www.minv.sk/
Slovenia: Policija

The Border Police Division within the Slovenian Police performs tasks in the field of state border security, illegal migration and foreigners. It plans, organises and monitors the work regarding border checks, border surveillance, compensatory measures, investigation of criminal offences and violations on the State border and border incidents, prevention of illegal migrations and events related to legislation on aliens. In the second instance, it decides on matters related to crossing of the State border and directs and coordinates the work of the Aliens Centre. Within its field of work, it monitors and evaluates security conditions and efficiency of police work, participates in preparation of legislation and directives and in improvement of tactics and work methods, in processing of computer data and their mediation to the public. It also takes care of the implementation of obligations imposed by international agreements and in recent years has been focusing special attention on the implementation of Schengen standards for integrated border management. In addition to international cooperation, it also cooperates with other state authorities and organizations.

http://www.policija.si/
Spain: Cuerpo Nacional de Policía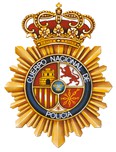 The Cuerpo Nacional de Policía (National Police Force) is the National Civilian Police Force of Spain. The CNP, with 68,627 members, handles criminal, forensic, terrorism, public order and Aliens and Borders matters. The specific and exclusive competencies of the National Police force regarding aliens and border issues are: the Control of Entry and Exit from the national territory of Spanish nationals and foreigners, issuing of Residence Permits, the granted competencies by law under aliens, refuge and asylum, refusal, expulsion, emigration and immigration, management of 70 Border Crossing Points, prevention, investigation and prosecution of illegal migration networks.

http://www.policia.es/
Spain: Guardia Civil

The Civil Guard has 80,000 officers, who are deployed all over the national territory and territorial waters, carrying out 3.9 million services per year, approximately 10,000 a day; that amounts to 32 million work hours and one million actions. In order to develop these services, the Civil Guard vehicles cover more than 350 million kilometers a year (enough to drive around the world almost 8,000 times). The surveillance of coasts, borders, ports and airports is entrusted to the Civil Guard exclusively just as the control of the smuggling activities in Spain. In addition, control of illegal immigration in this regard is one of its main duties.

http://www.guardiacivil.es/es
Sweden: Kustbevakningen

The Swedish Coast Guard (SCG) is a civilain law enforcement authority with responsibility for surveillance and environmental response at sea. It is responsible for border control at sea, custom controls, fisheries inspection, environmental protection and search and rescue. The Swedish Coast Guard does also ordinary Police activities in the area of maritime safety and also investigates: e.g. illegal oil spills and drunk driving at sea. The SCG consists of 800 personnel and has 2 command centres operating 24/7 for a cleaner sea, increased safety at sea and sustainable future fishing.

http://www.kustbevakningen.se/
Sweden: Polisen

The Swedish National Crime police (SNCP)is a part of National Police Board and has its headquarters in Stockholm. Its primary task is the fight against organized crime on a national and international level. But the SNCP is also responsible for border control in Sweden. The Central Borer Management Division is the Frontex National Point of Contact. The division has also a coordinating role towards 21 local Police authorities in Sweden involved in border control. The Police cooperate with the Swedish Coast Guard, Custom and Migration Board in border control matters.

http://www.polisen.se/
Switzerland: The Swiss Border Guard

The Swiss Border Guard – BG for short – is the uniformed and armed part of the Federal Customs Administration (FCA) and as such forms part of the Federal Department of Finance (FDF). The Border Guard has three strategic tasks: Customs duties Together with the collection of value added tax and customs duties, these include the prevention of smuggling and trafficking in narcotics, weapons, war material, hazardous substances, protected animal species, cultural artifact sand counterfeit branded articles, Police security duties These mainly involve searching for persons, goods and vehicles, detecting document forgeries and preventing international crime, Aliens police duties. These include the prevention of illegal entry into and departure from the country, illegal residence and working, people smuggling and trafficking.

http://www.ezv.admin.ch/